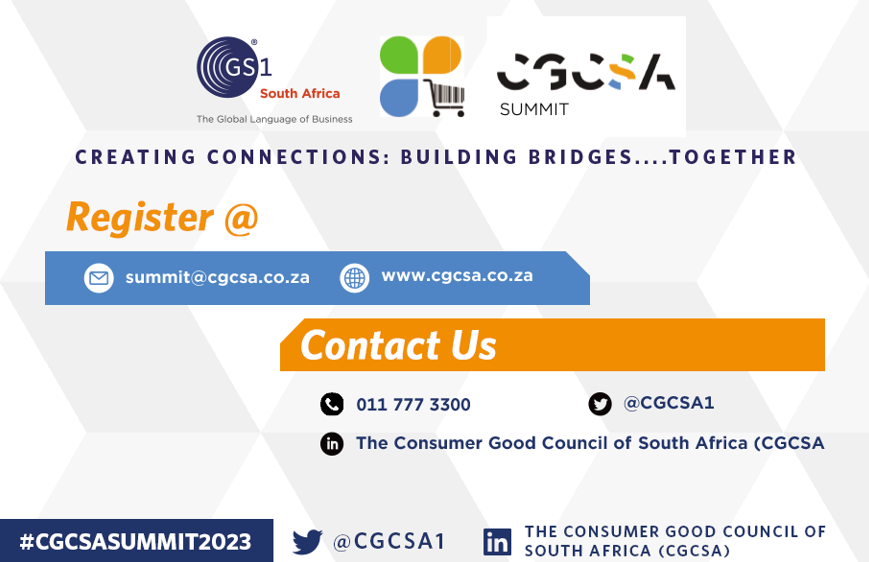 CGCSA Summit 2023
---
The CGCSA annual summit is CGCSA's flagship event. Since its inception in 2010 it has been thee meeting place for industry leaders in the Consumer Goods Industry. The 1day conference provides good quality content, invaluable thought leadership and an opportunity for industry to network on non-competitive matters facing the industry. The focus of the summit is not only on existing established market leaders but also on new entrants to the market, opening doors for the SMME community to the larger players in the consumer goods industry. Over the years the annual summit has by all accounts grown to be more successful with delegate's feedback indicating an overwhelming positive rating across the board, from the speaker line up to the venue to the overall value for money of the event. The themes for each year's summit are chosen in consultation with industry leaders as to what the hot topics are for the industry during that period. This year's theme is Creating Connections: Building Bridges….Together

11 Oct 2023 | 07:00AM - 17:00PM

Focus Rooms | Heaton Lane Longlake 20, Modderfontein Lethabong, Sandton, 1096
No pass information is available for this event.

11 Oct 2023 | 07:00AM
Registration

11 Oct 2023 | 09:00AM
Exhibition + Activation + W&R Seta Activation Room

11 Oct 2023 | 10:30AM
Company Video

11 Oct 2023 | 10:40AM
MC Remarks
Zanele Morrision

11 Oct 2023 | 10:50AM
CGCSA Opening Remarks
Johann Vorster
Gareth Ackerman
Zinhle Tyikwe

11 Oct 2023 | 11:00AM
Keynote Address
Prof. Mervyn King
Micheal Judin

11 Oct 2023 | 11:30AM
Topic: Industry Research - The FMCG Story
Xhanti Payi

11 Oct 2023 | 12:00PM
Topic: The SLA Between Business & Government: Collaboration & Strategic Partnership for SA Economic
Alicia Eggington
Dylan Piatti
Khulekani Mathe

11 Oct 2023 | 12:30PM
Topic: Fortifying Supply Chain - Global Standards and Benefits of Verified by GS1
Christian Zaeske

11 Oct 2023 | 13:34PM
Topic: Driving Transformation as a Business Imperative for Socio-Economic Sustainability in SA
Akhona Qengqe

11 Oct 2023 | 14:15PM
Topic: Innovation & Technology to Secure the South African Plate
Mushambi Mutuma

11 Oct 2023 | 14:45PM
Topic: A Spotlight on L'Oreal
Serge Sacre

11 Oct 2023 | 15:15PM
Topic: Skills Development for the Retail Value Chain to Drive Growth
Detonia Buqwana
Lindiwe Nhlapho
Ntombi Dludla
Thobeka Ndabula

11 Oct 2023 | 15:45PM
Topic: Rethinking Packaging for Circular and Sustainable Food Supply
Prof. Suzan Oelofse

11 Oct 2023 | 16:15PM
Topic: Energy Demand Side Management- How Can It Be Sustainably Implemented
Malcom Van Harte

11 Oct 2023 | 16:45PM
Networking
Accenture
Accenture is a leading global professional services company that helps the world's leading businesses, governments and other organisations build their digital core, optimise their operations, accelerate revenue growth and enhance citizen services-creating tangible value at speed and scale. We are a talent and innovation led company with 738 000 people serving clients in more than 120 countries.
Technology is at the core of change today, and we are one of the world's leaders in helping drive that change, with strong ecosystem relationships.
We combine our strength in technology with unmatched industry experience, functional expertise and global delivery capability. We are uniquely able to deliver tangible outcomes because of our broad range of services, solutions and assets across Strategy & Consulting, Technology, Operations, Industry X and Accenture Song.
These capabilities, together with our culture of shared success and commitment to creating 360° value, enable us to help our clients succeed and build trusted, lasting relationships. We measure our success by the 360° value we create for our clients, each other, our shareholders, partners and communities.
Amka
Amka Products was established by the Kalla family as a small trading operation near Pretoria in the 1950s.
From the outset Amka has been focussed on the unique needs and opportunities inherent to Africa's emerging markets.

Today Amka is a major manufacturing and marketing enterprise, with specialised expertise in Africa.
Amka has:
1 000 employees.
Four manufacturing plants.
400 products
20 leading brands.
Sold in 35 African countries.
Been consistently rated as one of the top 10 empowerment companies in South Africa.
Amka's Key Performance Areas include:
People
Innovation
Flexibility
Reliable Service Network.
British American Tobacco
British American Tobacco (BAT) is a leading, multi-category consumer goods business. Founded in 1902 and today the Group is a truly global company – it employs more than 50 000 people worldwide, operates in over 180 markets and has factories in more than 40 countries. The BAT Group's headquarters are in London and the company is listed on the London Stock Exchange, with a secondary listing on the Johannesburg Stock Exchange.
The Group's global business is divided into three regions:
The United States
The Americas & Europe (AME) and Asia-Pacific
Middle East & Africa (APMEA)
Illustrating a balanced presence in both high-growth emerging markets and developed markets.

BAT's clear purpose is to build A Better Tomorrow™ by reducing the health impact of its business.
This entails committing to providing adult consumers with a wide range of enjoyable and less risky products, continuing to be clear that combustible cigarettes pose serious health risks, and the only way to avoid these risks is not to start or to quit, and encouraging those who otherwise continue to smoke, to switch completely to scientifically-substantiated, reduced-risk alternatives.*
In South Africa, BAT purchases more than 80% of all locally grown tobacco leaf, supporting both commercial and emerging farmers and agricultural jobs.

* Based on the weight of evidence and assuming a complete switch from cigarette smoking. These products are not risk-free and are addictive.
Chep
CHEP helps move more goods to more people, in more places than any other organisation on earth. Its pallets, crates and containers form the invisible backbone of the global supply chain and the world's biggest brands trust CHEP to help them transport their goods more efficiently, sustainably, and safely.

As pioneers of the sharing economy, CHEP created one of the world's most sustainable logistics businesses through the share and reuse of its platforms under a model known as 'pooling'.
CHEP's ambition is to create a positive impact on the planet and society, pioneering regenerative supply chains. CHEP primarily serves the fast-moving consumer goods (for example, dry food, grocery, and health and personal care), fresh produce, beverage, retail, and general manufacturing industries. CHEP employs approximately 11 500 people and believes in the power of collective intelligence through diversity, inclusion, and teamwork. CHEP owns approximately 345 million pallets, crates, and containers through a network of more than 750 service centres, supporting more than 500 000 customer touch-points for global brands such as Procter & Gamble, Sysco and Nestlé.

CHEP is part of the Brambles Group and operates in approximately 60 countries with its largest operations in North America and Western Europe.

For more information on CHEP, visit www.chep.com
For information on the Brambles Group, visit www.brambles.com
Clover
OUR VISION
To be a leading branded foods and beverages group in South Africa and selected African countries, and to provide accessible nutrition to all consumers.

OUR MISSION
To reach the group's widely dispersed customers daily and to provide trusting consumers with quality products through our extensive network. We take care to develop or acquire brands which have the potential to occupy the number one or two position in its chosen segments. To focus on better operations across the supply chain including services to the trade, and to deliver sustainable shareholder value by being a responsible corporate citizen and preferred employer.

OUR CORPORATE STRATEGY
Clover's corporate strategy is to build onto existing competencies within the Group and to establish a culture of exceptional performance with a view to set a platform for future market expansion. Different companies within the Group have different strategies, all receiving company-specific support to maximise their potential. Key to all its activities is the expansion of capacities to share in the strong growth in consumption in the segments which it dominates.
The Coca-Cola Company
The Coca-Cola Company is a total beverage company with products sold in more than 200 countries and territories. Our company's purpose is to refresh the world and make a difference. We sell multiple billion-dollar brands across several beverage categories worldwide.
Our portfolio of sparkling soft drink brands includes Coca-Cola, Sprite, and Fanta. Our hydration, sports, coffee, and tea brands include Dasani, smartwater, Powerade, Costa, Georgia, Gold Peak, Honest, and Ayataka. Our nutrition, juice, dairy, and plant-based beverage brands include Minute Maid, Simply, innocent, Del Valle, fairlife, and AdeS.
We're constantly transforming our portfolio, from reducing sugar in our drinks to bringing innovative new products to market. We seek to positively impact people's lives, communities, and the planet through water replenishment, packaging recycling, sustainable sourcing practices, and carbon emissions reductions across our value chain. Together with our bottling partners, we employ more than 700 000 people, helping bring economic opportunity to local communities worldwide.
Learn more at
www.coca-colacompany.com
and follow us on Twitter, Instagram, Facebook and LinkedIn
Exclusive Books
The Exclusive Books Group has been in business since 1951, when it was started by Philip Joseph. Over the years it has been owned by a number of large corporations including Premier Milling, CNA Gallo and The Times Media Group. In 2013 it was sold to Global Capital (Pty) Ltd who are the current owners.
The Group is involved in the retail of general reading matter as well as magazines and some stationery. They have stores across South Africa with five stores in the major airports, one store in Bloemfontein, Nelspruit, Pietermaritzburg and Port Elizabeth, seven stores in Cape Town, three stores in Durban, fifteen stores in Johannesburg and five stores in Pretoria. They also have a store in Windhoek Namibia and a store in Gaborone in Botswana as well as an online store exclusivebooks.co.za. During September 2020 Exclusive Books opened two pop up stores that sell value books, one in Kenilworth, Cape Town and one in Eastgate, Johannesburg.
The Group prides itself in selling a very wide range of titles. Each Store Manager purchases the stock for their store tailoring the offering to their specific customer base. On average each store carries approximately thirty thousand different titles across all categories.

Exclusive Books is a brand known not just in Southern Africa but across the globe having won numerous store design awards as well as being nominated for the London Book Fair Bookstore of the Year Award in 2017.
Our coffee partnerships with Seattle Coffee Company and Vida e Café are an integral part of the customer offering.

Fanatics, the group's customer loyalty program, has been running since 1998 and currently has over 280 000 active members. Fanatics card holders receive a 5% Fanatics Reward Voucher for every Rand spent, which can be used at any Exclusive Books store. Points are accumulated every time a member purchases at Exclusive Books.

The Exclusive Books strategy is to provide our customers with an extensive range of books, in beautifully designed stores serviced by knowledgeable booksellers.
Heineken Beverages
HEINEKEN Beverages was formed in 2023 following the merger of HEINEKEN South Africa, Distell
and Namibia Breweries Limited. As our name suggests, we produce an impressive portfolio of
brands, which includes our global flagship brand Heineken®️ as well as many other worldclass
brands, such as Savanna, Windhoek Lager and Nederburg.
We strive to be an employer of choice, firmly rooted in Southern Africa, directly employing just
under 5 000 people. As a company that actively promotes responsible consumption, we are
equally concerned about the issues of alcohol abuse in South Africa. This is why we have committed
ourselves to promoting responsible consumption through targeted campaigns and educational
information, through the Association for Alcohol Responsibility and Awareness (AWARE)
Kellogg's
Kellogg's SA has been nourishing great starts for over 100 years, with a wide range of cereals to meet the needs of the entire family.
It's a known fact that a healthy and efficient digestive system is important to helping you feel good each day. The Kellogg's® All-Bran® range of tasty, hi-fibre cereals is specifically formulated to help support your overall digestive wellness.

Kit Kat Group
As an independent family-owned business the Kit Kat Group has seen great evolution over the past 50 years and even more in the most recent decade.
Founded in 1953 by members of the Gani Family, this independent wholesalers and retailer started off as the Kit Kat Café and Restaurant. Over the years, the well-established business grew in success as the café was converted into a self-service supermarket in 1973, and is still currently growing from strength to strength.
Kit Kat has been able to expand their store footprint around Gauteng successfully, which as seen at the end of 2021 the expansion of their brand and stores in Limpopo through their Kit Kat Express model.
Kit Kat is amongst the very few independent wholesalers to have an effective and functioning fully operating online store that caters to all shoppers.
An interesting development resulted in Kit Kat partnering with Food Lovers Market to drive growth and success with the Fresh division of their business.
With its focus on partnerships, building strong relationships with suppliers and customers as well as its investment in ecommerce, data and technology, and The Kit Kat Group is well positioned to continue with its growth path for the foreseeable future.

Whilst the Group operates across multiple formats, its major FMCG trading brands include:
Kit Kat Cash & Carry
Kit Kat Express
Additional Kit Kat Trading Brands include:
Kit Kat Clothing
Kit Kat Buildmart
Kit Kat Connect & Money
Lindt SA
Today, quality chocolate products by Lindt & Sprüngli are made at 12 of its own production sites in Europe and the USA. They are distributed by 32 subsidiary companies and branch offices, in about 500 own stores, and also through a comprehensive network of more than 100 independent distributors around the globe, all working towards one goal: to enchant the world with chocolate.

Lindt – Social media links:
Facebook: @LindtChocolateSA
Instagram: @LindtSA
Hashtag: #LindtLoveSA
Mars
More than 100 years ago, a young Frank C. Mars started making candies in his Tacoma, Washington kitchen. From that simple beginning, his son Forrest built Mars into the mature company it is today, first by creating the MILKY WAY® bar with his father and later by expanding the business overseas and diversifying into new categories like pet care and food. Today, the Mars family of Associates is more than 100 000 strong in over 80 countries around the world.
Through all that growth, we've remained a private, family-owned business, with passionate Associates who are united and guided by The Five Principles:
QUALITY
The consumer is our boss, quality is our work and value for money is our goal.
RESPONSIBILITY
As individuals, we demand total responsibility from ourselves; as Associates, we support the responsibilities of others.

MUTUALITY
A mutual benefit is a shared benefit; a shared benefit will endure.
EFFICIENCY
We use resources to the full, waste nothing and do only what we can do best.
McDonalds
McDonald's South Africa (SA) opened its first restaurant in November 1995. Today, we operate over 360 restaurants in all nine provinces and proudly serve an estimated eight million customers a month.
A great place to work for, not only for a job but also a career. McDonald's SA has over 15 000 employees at various levels, including franchisees, restaurant managers and crew. These are predominantly from the youth category with approximately 40% of management having started their careers in our restaurants. McDonald's has been officially recognised by several organisations as a great place to work for in 30 countries, with McDonald's SA having been voted the Deloitte's Best Company to Work for, three years in a row.
McDonald's is renowned for its training throughout the world and is proud to have our very own Hamburger University (HU), only one of nine in the world. HU is an extension of our commitment to our people - shaping careers, fostering talent, developing leaders, and leveraging lifelong learning.
Diversity and Inclusion is a value that we live, with our staff being indicative of our rainbow nation. 97% of staff are black, 65% female with 50% of those in management levels.
Digitisation has been a focus for the past 10 years, seeing our restaurants offering contemporary locations for customers to enjoy their favourite meals, including Digital Menu Boards and Self Ordering Kiosks to meet customers' experiences.
National Liquor Traders
A lobby structure for liquor traders.
Our mission is to empower our members and constituency to enable responsible trading in alcohol and advance member and constituency interests regarding legislative and alcohol related regulations.
Nestle
For 100 years, Nestlé South Africa has delivered on its Good Food, Good Life promise to consumers, ensuring continued access to an ever growing range of established and well loved brands. Through a spirit of innovation, the company continues to deliver new and exciting products in response to the evolving needs of its customers. By building a solid reputation for quality, nutritious food and beverages, Nestlé South Africa has created a steady increase in demand for its products.
The company understands that customers, consumers and employees choose the Nestlé brand as one they can trust. Consumers can enjoy Nestlé products from early in the morning with a bowl of Nestlé cereal and coffee, to a mid-morning chocolate break, and ending off the day with a comforting hot beverage. The Nestlé brand is a promise that reflects the reliability and trustworthiness of quality products, great service and inspired people.
Nestlé's efforts are aimed at achieving its corporate ambition of being recognised as the leading Nutrition, Health and Wellness Company while Creating Shared Value in the communities where it operates. The company's core values of diversity, trust, integrity and quality continue to guide its commitment to making a meaningful contribution to the lives of employees, consumers and all its stakeholders.

Good Food, Good Life
Pick n Pay Stores
The Pick n Pay Group is a retail business in the fast-moving consumer goods industry. We operate through multiple store formats under three brands – Pick n Pay, Boxer and TM Supermarkets. Pick n Pay also operates one of the largest online grocery platforms in sub-Saharan Africa. Our honorary life president and consumer champion Raymond Ackerman purchased the first four Pick n Pay stores in Cape Town, South Africa, in 1967. Today, the Pick n Pay Group operates over 2 200 stores across multiple formats in eight countries across southern Africa, including a 49% investment in TM Supermarkets in Zimbabwe.
Customers are at the heart of our business. Consumer sovereignty informs everything we do, from how we source and buy our products and the product range we offer, to how we design and run our stores to give customers great value and service. Putting the customer first means we always work hard to understand their diverse and changing needs and how we can serve them better.
Pick n Pay's strong and unique family values – and the belief that 'doing good is good business' has guided the business over the past 50 years, providing a solid foundation for growth, innovation, service excellence and generosity.
Pepsico
PepsiCo products are enjoyed by consumers more than one billion times a day in more than 200 countries and territories around the world. PepsiCo generated more than $79 billion in net revenue in 2021, driven by a complementary beverage and convenient foods portfolio that includes Lay's, Doritos, Cheetos, Gatorade, Pepsi-Cola, Mountain Dew, Quaker, and SodaStream.
PepsiCo's product portfolio includes a wide range of enjoyable foods and beverages, including many iconic brands that generate more than $1 billion each in estimated annual retail sales.
In South Africa, the company's brands include Weet-Bix, Simba, Liqui Fruit, Lay's, SASKO and White Star.
Guiding PepsiCo is their vision to Be the Global Leader in Beverages and Convenient Foods by Winning with PepsiCo Positive. PepsiCo Positive is their strategic end-to-end transformation that puts sustainability and human capital at the centre of how they create value and growth by operating within planetary boundaries and inspiring positive change for the planet and people.
Visit their website for more information
https://www.ssa.pepsico.africa/
Polyco
Polyco PRO NPC is a registered producer responsibility organisation (PRO) that manages an extended producer responsibility (EPR) scheme focussed on plastic packaging in South Africa
We work to grow the plastic packaging collection and recycling industry and therefore make used plastic packaging a valuable resource that works for our economy, with the ultimate outcome of ending plastic pollution in the environment. Polyco does this by investing in recycling infrastructure and initiatives in South Africa and by educating both the industry and consumers about recycling. 
This is all underpinned by a company philosophy of collaborating with multiple stakeholders to ensure that our efforts are strengthened in order to achieve a sustainable environment and future for South Africa. Polyco's mission is to bring global best practices to South Africa by investing in plastic recycling initiatives that support social inclusion and wellbeing, an improved environment, and economic growth. Polyco's members pay an EPR fee for every tonne of identified product placed on to the market. In turn, Polyco ensures sustainable compliance in line with EPR regulations by investing in the South African plastic packaging recycling value chain to implement global best practices.
Since inception in 2011, Polyco's track record reflects investments of more than R115 million directly into companies in the South African plastic recycling sector, achieving a capacity growth of more than 280 000  tonnes through 114 project partners during this time.
Red Bull
Giving Wings to People and Ideas.
South African Breweries (SAB)
The South African Breweries (SAB) is part of the social fabric of South Africa and is home to over 5 700 employees. SAB is committed to creating sustainable investments; and driving real, tangible growth for the economy. South Africa has been the home of SAB for centuries tracing all the way back to Charles Glass and the Castle Brewery that he started in 1895 and since then we have grown into a landmark South African company.
The company's beer value chain:
SAB has a total of 3 739 suppliers.
SAB supports over 140 000 jobs.
Our high-quality ingredients are procured from more than 1 277 local farmers.
From farm to bottle, SAB beers are 95% locally sourced.
SAB supports over 1 million livelihoods throughout its value chain.
SAB's dream is to build the most aspirational company in South Africa, one that supports its people, creates jobs, and empowers communities.
W&R Seta
The Wholesale and Retail Sector Education and Training (W&RSETA) is the skills authority in South Africa's fourth biggest economic contributor – wholesale and retail. Established in 2000, the W&RSETA facilitates education and training through the implementation of learning programmes, disbursement of skills development grants, quality assurance of learning, SMME and entrepreneurship support and enabling access to higher education through bursaries.
Our vision
To be the leader in skills development in the country.
Our mission
To develop a skilled, capable, competent and professional workforce to transform the Wholesale and Retail Sector.
Akhona Qengqe
Akhona Qengqe is the recently appointed General Manager at KFC Africa. She is responsible for overseeing the strategic direction and overall operations of the organisation and with the full leadership team drives profitability and relevance for the business. In her most recent role as Chief People and Transformation Officer at KFC, Akhona was responsible for developing and executing KFC's global people strategy in support of the overall business' strategic direction. Prior to this role, she was the Director of Transformation for more than two years and instrumental in crafting a diversity and inclusion agenda for the business where through initiatives such as #IamMoreThanWhatYouSee and more recently KFC's Women on the Move (WOM) Programme she is able to demonstrate thought leadership and build credibility with both peers and franchisees, specifically through bringing KFC's strategy to life. Having been in the franchise industry for 17 years, Akhona has an impeccable understanding of what it takes to empower the most important aspect of any business – its people. She is proud to actively lead a culture that propels results and inspires employees and franchisees to see where they fit into the bigger picture of Yum! She believes that the business's values should be something that employees can live by – a culture that fuels the business. Akhona has also held various senior positions including Board Chair of the Franchise Association of South Africa, Head of Convenience Retail at Shell South Africa and Director of Africa Franchise Development at Yum! Restaurants International. She holds a Bachelor of Commerce in Economics, Politics and Philosophy from the University of Cape Town, a Marketing Certificate from the University of South Africa, she also completed a Critical Diversity Literacy Program from Wits University and has also recently become an Oxford University Alumni.
Alicia Eggington
Alicia Eggington is the Vice President and General Manager for P&G South Africa, Botswana,and Namibia. In this role, she leads our market operations in and around the region and is responsible for investment decisions. She is highly experienced in both Trade Marketing and Brand Management with her 14 years of experience at P&G and having completed her Business Honours at the University of Technology, Sydney. Her expertise is broad, having managed corporate sales strategy, modern trade, and eComm across Africa, the Middle East, and Asia. Interests and Passions Alicia is a strong advocate for advancing gender equality and the proud Founder of the Australian Women's Network at P&G. She strives to drive diversity and inclusion, sustainability, and a people-centric culture in all her work. She currently serves on the Board of the American Chamber of Commerce. Outside work, she enjoys a thriving family life with her husband and three children.
Christian Zaeske
Global Head of Master Data Management For more than 20 year Christian Zaeske has been a noteworthy leader at METRO AG. As Global Head of Master Data Management he is today driving the digitalization of METRO's product content. Christian has considerable expertise and held multiple positions within Business Intelligence, Customer Relationship Management, Offer and Supply Chain Management. With his profound know-how he is managing passionately multinational teams and projects believing in the power of standards and cross industry collaboration. Positions within GS1: Vice Chair GS1 GDSN Board Co-Chair GS1 Global Data Model
Detonia Buqwana
My name is Detonia Buqwana, I am a communal famer in Sterkspruit Bikizana Village with extensive experience in farming. My tenacious and proactive approach has resulted in numerous important wins. I am a youngest executive member in the district African Farmers Association in Joe Gqabi. Award winning small-holder farmer in the district. My aim is to uplift the living standards and local economy in the villages.
Dylan Piatti
Currently leading the growth & development of Advantage Group International in Africa, focusing on enhancing engagement for multinational manufacturers and Retailers. Winner of the firms highest growth in emerging markets for 2021, and most efficient market 2022.​ Ex Board Chair of the Ecommerce Forum Africa - led the international strategy solidifying its seat at the Global table. Represented Africa on the Global DTN Advisory Board (Digital Trade Network, sponsored by the ICC). Sat on National Treasury Ecommerce Working Committee. Represented Private Sector in Geneva across multiple session with the WTO, UNCTAD, WEF and UNEC​ Previously with Deloitte Africa in the Consumer and Manufacturing Industry. He has led campaigns for retail & FMCG clients (SaaS company), launched a niche retail store, a skin care brand and international magazine.​
Gareth Ackerman
​With a career spanning over 37 years of dedicated service, Gareth Ackerman is a name synonymous with leadership and excellence. Gareth is the Chairman of Pick n Pay Stores Ltd. He has been an integral part of the company in various roles, among them being an executive director, joint group managing director and managing director of Pick n Pat Group Enterprises. He also served as Chair of Pick n Pay Holdings Limited from 2002 to 2010, and became the non-executive Chairman of Pick n Pay Stores Limited in 2010. His commitment extends beyond the boardroom and is co-chair of the Consumer Goods Council of South Africa (CGCSA). In addition, Gareth serves as a trustee of the Masisizane Fund and chairs the Ackerman Family interests. He is also the previous co-chair of the International Consumer Goods Forum and was a member of the international board of the Young Presidents' Organization (YPO).​
Johann Vorster
After graduating with a BComm from RAU in 1985, Johann spent 4 years with Ernst & Young as Senior Manager while completing his honours through Unisa in 1986 and his CA in 1987. He spent the next three years with SARS as Assistant Director of Operational Research. He completed his MBA through Wits before joining East Rand Plastics (Pty) Ltd in 1992 which later became Astrapak. As Financial Director of Astrapak he was responsible for the company's listing on the JSE in 1997. He became joint MD of the Film Division of Astrapak before accepting an offer as Chief Financial Officer from the Clover Group in October 2000. He became Chief Executive in 2006, where he faced a huge challenge to convert Clover the co-op to a commercial orientated entity. After the co-op members approved the restructuring proposal the company was listed on the JSE in 2010. His main task was to convert the culture from managing costs to generate profits by investing behind profitable brands and products, and using technology to support the business. For all his efforts, Johann won the EY World Entrepreneur Award for Southern Africa 2015 for the Master Category and represented South Africa at the EY World Entrepreneur Award in Monte Carlo in June 2016. An accolade of the most Reputable Company in South Africa three years in a row says a lot about the integrity Johann demands from the business.
Khulekani Mathe
Mathe is the Deputy Chief Executive Officer of Business Unity South Africa (BUSA). His main tasks include overseeing operations, policy coordination, and facilitating the implementation of strategic priorities with various stakeholders. He joined BUSA in February 2023. Prior to joining BUSA, he was head of financial inclusion at the Banking Association South Africa, where his portfolio included transformation in the banking industry, small business development, and financial education. Mathe is a seasoned policy development professional with many years of experience in different roles. He served in various positions in the public service in the Presidency, the National Planning Commission Secretariat, and the Department of Planning, Monitoring, and Evaluation. During his tenure in the National Planning Commission Secretariat, he was part of the team that wrote the National Development Plan, as well as head of the Secretariat. In the early parts of his career, Mathe spent 15 years in the education sector working with various organisations in the field of adult education. During this period, he was appointed head of Tembaletu Community Education Centre and led it to win two national awards and one international award for its work. In recognition of his leadership, he was appointed chairman of the Ministerial Committee to review adult education policy for South Africa in 2007. He served in the structures that set up and governed the Education Training and Development SETA in its formative years. He is a certified director and a member of the Institute of Directors of South Africa (IODSA). Amongst his qualifications, he holds a Master of Science in development finance and a Master of Education (specialising in adult education) degrees. He is a fellow of the African Leadership Initiative (ALI) - a member of the Aspen Global Leadership Network, an Alumnus of the Ford Foundation International Fellowship Programme, and serves on the board of directors of the Ikusasa.
Lindiwe Nhlapho
Lindiwe Nhlapo is a Chartered Accountant and currently Chief Financial Officer of the Wholesale & Retail Sector Education and Training Authority. Nhlapo is an accomplished professional with over 18 years of experience providing fiscal, strategic and operational leadership in multiple sectors. Nhlapo's career spans across several disciplines and sectors, serving as a Senior Financial Analysts at both Hewlett-Packard and SAP Africa. She's also served as the Chief Financial Officer at the merSETA, 4 Africa Exchange and Technologia Group. Nhlapo has established herself as a diverse and multi-industry leader who has served as non-executive director for Oriole Healthcare Administrators and ROI Africa (Media-Monitoring) as well as a council member of the Johannesburg Chamber of Commerce and the Mpumalanga Human Resources and Development Council. Her dedication and astute leadership has seen her gain recognition as a Finalist in the Public Enterprises Sector of the CEO Magazine's Most Influential Women in Business and Government Award. A dynamic, talented and result-oriented black woman with diverse experience and proven abilities in financial management, developing and implementing strategy, risk management and well-rounded business leader who finds balance in life by travelling and engaging in endurance sports such as cycling and marathon running.
Malcom Van Harte
Malcolm Van Harte has 26 years of expertise in the electric utility transmission and distribution industry. He has an MSc in Electrical Engineering from the University of Cape Town and works as the Senior Manager for SMART GRID & TELECOM in distribution. He also has experience in risk, reliability and resilience, network planning, demand side management, regional and national control centres, and network optimisation. He is the co-chair of NECOM Workstream 5 - Demand Management and provides support to the Eskom IDM. He is a thought leader in the SA Distribution industry's transformation to a greener and modernised EDI. He has authored Eskom guidelines and standards, as well as a number of national and international papers, and has accomplished a number of milestones, including 30+ papers (author and co-author), four articles, guest speaker for 10 conferences, lectured seven short courses, 11 position papers on future Distribution business, and contributed to six national and international institutions. He was also honoured with nine awards for his services in several disciplines, as well as the title of Distribution Executive of the Year 2022.
Micheal Judin
Michael is a non-executive ex officio director of, and legal advisor to, the American Chamber of Commerce in South Africa ("AmCham"). He is also the non-executive chairman of the Advisory Board of the AmCham. On November 22, 2006, Michael was inducted as an Honorary life Member of the AmCham in recognition of exemplary leadership and dedicated service. Michael is Co-Chairman of the Corporate Governance International Development sub-Committee of the American Bar Association's Business Law section. Michael is a member of the e-Commerce Advisory Committee of the Financial Sector Conduct Authority (formerly Financial Services Board) of the Republic of South Africa. Michael was a member of the Task Team which wrote the original Code for Responsible Investing in South Africa ("CRISA") Committee and is a member of the Task Team that wrote the new Code.